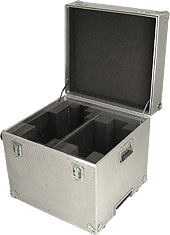 After investing money in the latest computer technology for your company, the last thing you want to worry about is how to survive the rigors of transporting your technologies from one location to another.
Whether you require a computer case solution for shipping your equipment around the world or simply across town, Shipping Case Corporation can provide your business with computer cases that are cost-effective, functional and designed specifically to fit your specific computer shipping needs.
Simply provide us with the basic dimensions and weight of your computer equipment and we will provide a functional computer case designed to meet your expectations.
It's that simple.
We have developed a variety of custom computer case configurations, for a wide array computer components and Peripherals including CPUs, servers, monitors, flat panel displays, hard drives, printers, scanners, digital cameras, keyboards and additional external devices such as Zip drives, back-up surge protectors, PDAs and speakers.
We invite you to contact us at 1-800-268-6000 or email at rfq@cyber-case.com, so we may address your particular requirements.

CLICK HERE TO REQUEST A QUOTE FOR COMPUTER CASES
For information on computer rackmount cases, visit Eia-Rackmount-Case.com