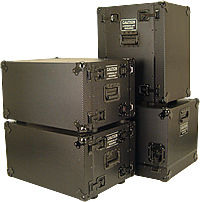 With the Quick Quote system at Shipping-Case.com, you can receive a quote for custom designed rackmount cases delivered directly to your email account, free! Simply fill in the form and state your requirement, desired dimensions and case application, and we will do the rest! Remember to include any custom hardware or additional accessories in the form (breather valves, shock isolators, custom exterior finishes, etc.) if applicable. To receive a Quick Quote for additional case applications and custom design cases, please visit www.cyber-case.com. Please select from the following options :
Case Application

Transit Case Quote
Shipping Case Quote
Rackmount Case Quote
Laptop Case Quote
Monitor Case Quote
Computer Case Quote
Military Case Quote
Custom Case Quote
Trade Show Case Quote
Panelmount Case Quote
Reusable Case Quote
Test Case Quote
Anti-Static Case Quote
In order to process your Quick Quote in a timely manner, please include all requested information, thank you for choosing Shipping-Case.com. In most cases we can answer your request for quote within 24 hours.
If you have any additional questions or comments concerning or case technologies, please direct them to rfq@cyber-case.com.