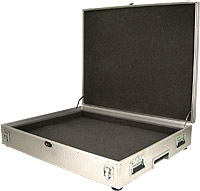 In order to have sales success at trade show exhibitions, first you need to get your trade show booth, demonstration equipment, documentation and flat panel displays safely on site.
At Quantum Scientific Inc, we understand your need for efficient, heavy-duty transit and shipping cases to ensure that your sales presentation isn't compromised by mishandling and damages in the shipping and handling environment.
Strong yet lightweight, our shipping cases are all custom designed for your peace of mind, taking into consideration the equipment size, weight and fragility of your specific requirements in order to provide the protective packaging you need.
Available with a wide variety of user-friendly features and options including retractable handles, recessed casters and lockable latches, there are no hidden design or set up fees, our minimum order is one, and our typical delivery lead time is less than two weeks from receipt of order.
To ensure you have the right protection for your trade show equipment, simply click the "Get A Quote" button found at the bottom left-hand corner of this page, and our design staff will develop a custom case design that meets the demanding requirements of your succeeding in the trade show exhibition environment..