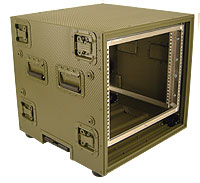 At Quantum Scientific Inc., there's no need to pay a premium for custom military case designs that comply with US Military Specifications.
In tests conducted by independent third party laboratories, our standard commercial case technologies have successfully passed loose cargo, free fall drop, rainfall, fungus and immersion test criteria as defined by US MIL STD-810F.
Available in your choice of OD Green, Desert Tan and Matte Black exterior finishes, our MIL-SPEC shipping case products are provided complete with mated aluminum valances, neoprene gaskets, silicone seals and pressure release valves.
As part of our ongoing commitment to support coalition military forces, MIL-SPEC case orders can be processed and shipped in as little as 2 to 5 days receipt of order, dependent on exterior finish and/or quantity ordered.
Consistent with all our custom case technologies, there are no set-up fees or tooling charges, thereby providing a cost/value relationship that is second to none in the transit case industry. Simply complete one of our standard RFQ forms and indicate that military compliance is part of your shipping case requirements.
For immediate assistance with your military case requirements, please call 1-800-268-6000 to speak with one of our experienced case design staff.

Click here to request a quote for MILITARY CASES.
.: Click below for additional photos of Military Cases :.