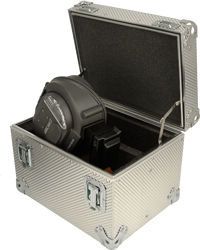 If your objective is to protect equipment appearance and enhance the overall portability of the application, our transit cases are the ideal solution to your custom case needs.
Comparable in weight to traditional plastic transit cases, our welded aluminum cases are impervious to temperature changes, and are the perfect choice for sales demonstration cases, camera cases, tool cases and small hand held equipment.
Complete with custom foam lined interiors, Shipping Case Corporation can design transit cases for virtually any application.
As with all our custom cases, there are no set-up fees, our minimum order is one, and typical lead time is 2 - 4 weeks afer receipt of order.to shipping is 10 business days from order.
For more information concerning your transit case needs, please use our "Quick Quote" system to receive a custom case quote online, sent directly to your email address. For additional information concerning transit case applications, please contact us at 1-800-268-6000.
Click here to request a quote for TRANSIT CASES.
.: Click below for additional photos of Transit Cases :.

For further information on Transit Cases, visit Transit Cases from Cyber-Case.com