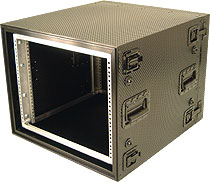 For rackmount equipment applications, we use a welded aluminum frame with standard EIA-310 rack hole spacing (1.750" height) for rackmount equipment installation.
The aluminum rack chassis is then mounted into our welded aluminum rackmount cases using neoprene or metal coil isolators for protection against shock and vibration during shipping.
Typically provided with front and back removable covers, this rackmount case design allows easy access to equipment rear panels for cabling connections, and access to the front for operation, reducing your setup time once you arrive on site.
Durable yet light, our welded rigidized aluminum rackmount cases are available in both standard 19" as well as 23" rack widths, from 3 to 36 EIA rack spaces high in any depth you need.
Looking for a "non-standard" rackmount case solution?
As a custom case manufacturer, we use CNC laser technologies in our fabrication process, so there's no need to limit your application to a "standard rackmount case size", and our shock isolator configurations can protect payload ranges from 60 to 600 pounds.
Whether you require a standard or non-standard rackmount case, shock isolated or hard mounted EIA rack rails, simply tell us what you need in the form provided below, and we'll develop a case design for an aluminum rackmount case that meets your specific requirements.

Click here to request a quote for RACKMOUNT CASES.
.: Click below for additional photos of Rackmount Cases :.

For further information, please visit Eia-Rackmount-Case.com