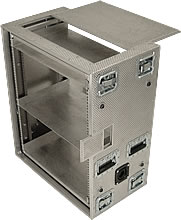 At Quantum Scientific Inc., there's a lot more that can go into a custom case than six sides, two latches, a hinge, a handle and some foam.
In addition to building custom case shipping technologies for test equipment, rackmount equipment and computer technologies, Quantum Scientific also designs and manufactures custom case enclosures for highly specialized applications
Internal muffin fans, quick release power connectors, internal metal chassis, specially insulated case interiors and/or heating systems for equipment deployment in the high Arctic are just a few of the technical possibilities.
Whether you need a specific exterior finish, photographically etched and anodized nameplates with your corporate logo for external markings, or precision CNC water-jet hole placements for connectors and electronic panels, Quantum Scientific Inc. designs and manufactures cost effective solutions to meet your specialized case requirements.
As with all our custom case technologies, there are no set-up fees, the minimum order is one, and typical lead-time to shipping is 10 business days from order.
Using our "Quick Quote" system you can have a custom case quote delivered straight into your email inbox.
Click here to request a quote for CUSTOM CASES.
.: Click below for additional photos of Custom Cases :.