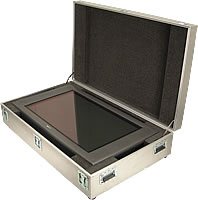 The focal point of your presentation...sleek... powerful... gentle curves... rounded corners... pedestals... speakers... difficult to measure... awkward to handle... cumbersome to ship.
Given your specific shipping requirements, there are a number of custom case configurations available to meet your needs for whiteboards, LCD and plasma display shipping cases.
Shock isolated monitor cases can be developed for large screen projection systems or plasma display televisions, similar to the custom monitor case design on the right.
Not all monitors are created equal. Screen size, monitor depth and unique bases make finding the right case for your monitor(s) a task in itself. At Shipping-Case.com, we design and manufacture the protective and cost-effective shipping cases you require with no set-up fees.
At Shipping-Case.com, form follows function.
Looking for the smallest possible case configuration to safely ship your display panel requirements? Simply request an equipment template form from our design team (case-design@shipping-case.com), fill in the blanks and we'll be able to reduce realized case size and costs even more.
Click here to request a quote for MONITOR CASES.